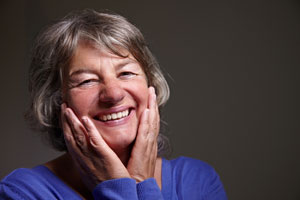 If you have dentures, you know how uncomfortable they can be if they do not fit properly. Loose dentures are difficult to wear, but many patients do not come in to have them properly adjusted. Do not just try to tough it out and make do with a set of ill-fitting dentures. Call our Milwaukee dental office right away to set up an appointment.
Dentures that do not fit properly can cause many problems. In addition to the discomfort that they cause, they can make it difficult to chew properly. They can also irritate your gums, causing swelling, bleeding, or even infection.
In addition, a set of dentures that are loose are more likely to crack or break. In this case, the most likely outcome is that we will have to provide you with a new set. While some cracked dentures can be repaired, they will never be as strong and sturdy as they used to be. The best approach is often to discard them and get a new set.
Of course, this can be an expensive proposition, so do not cost yourself more money than you need to spend. At the first sign of a problem with your dentures, just give our dental office a call. Our experienced staff will be happy to answer any questions that you have so that you can enjoy a satisfactory outcome.
Do not try to repair your dentures at home or make them fit better on your own. This is a surefire recipe for disaster. Dentures need to be adjusted by a trained dental professional who has the skills and the training necessary. Our staff has many years of experience assisting patients with their dentures, so we can easily resolve any problem that you may be having.
Our most important priority is to ensure your comfort and good health. If your dentures do not seem to be fitting properly, do not hesitate to speak up and tell us about your concerns. We want to know about any problems that you may be having so that we can fix them immediately. This way, you can have teeth that look and feel great.
Call us right away to schedule an appointment to get your dentures repaired if you have noticed that they seem to be loose. We will make room for your immediately in our schedule so that you can feel comfortable as soon as possible.