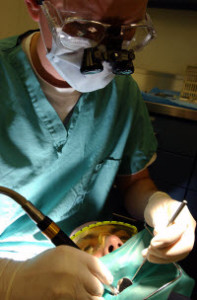 It is true, root canal therapy can save your tooth. Have you ever talk to someone who has a false set of teeth? If you have you will understand why it is so important to keep all of your teeth at whatever cost.
Eating foods with false teeth is not enjoyable. In fact, many people who have false teeth state that they no longer enjoy the pleasure of eating. Also, there are certain foods such as an apple or a well done steak that are almost impossible with false teeth.
Therefore, when you visit your family dentist ask him about the better option for you and your teeth. Sometimes you will have a tooth that has massive fillings. Over the course of time the filling becomes larger and eventually becomes too large for the tooth.
At this point the dentist may recommend a root canal and a crown. This is a very good option because a crowned tooth is a better alternative than having the tooth completely removed. When you have a tooth that is crowned it is almost as good as having your own real teeth.
Many people are afraid of root canals. True, in the past a root canal was a dental procedure that could be very painful. However, with today's technology and precise dental equipment it is as easy as having the filling.
This is especially true because of digital x-ray machines. The dentist does not need to rely on the old form of x-ray where you took a picture and then developed it. Today's newer digital x-ray machines allow the dentists to view the choose at the same time as he does he x-ray.
This better procedure will allow him to  be precise when drilling a root canal. This precision is virtually painless and more importantly will save your tooth.
For more information about root canal therapy contact emergencydentistmilwaukee.com.